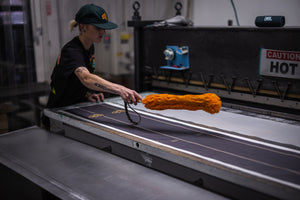 Register your DPS Product(s)
DPS Products including Koala, Foundation, Hybrid, Hybrid T2, Pure, Alchemist, Grom Skis, Poles, Apparel, DPS Branded Bindings, DPS Branded Skins, and Luggage purchased new from DPS Skis or authorized dealers come with a two-year warranty (the "Two-Year Warranty") against manufacturer defects, subject to the limitations and exclusions described below.  Non-DPS Branded Touring and Alpine Ski Bindings (the "Non-DPS Bindings") are covered separately by the manufacturer's limited warranty.  We require that your ski bindings are mounted and tested by a certified/trained ski technician each year. 
To qualify for DPS Two-Year warranty program, you must register your new DPS products.  This quick and easy process ensures proof of original ownership and grants you access to the benefits of the warranty programs. 



If you purchased DPS Full Carbon Skis built after July 1, 2022 (currently consisting of the Kaizen, Pagoda Tour, Pagoda, Pagoda Piste, Lotus and Powderworks models which are referred to herein as the "DPS Full Carbon Ski Products") purchased new direct from DPS Skis or an authorized DPS Skis dealer please register for our lifetime limited warranty.
Register Your Qualifying DPS Product(s)
THE LIFETIME WARRANTY AND TWO-YEAR WARRANTY ARE EACH A LIMITED WARRANTY, AND EACH IS GIVEN IN LIEU OF AND INCLUDES ANY AND ALL EXPRESS AND IMPLIED WARRANTIES THAT MAY APPLY TO THE SKI PRODUCTS.  DPS SKIS MAKES NO OTHER REPRESENTATIONS OR WARRANTIES OF ANY KIND, WHETHER EXPRESS OR IMPLIED, REGARDING ANY SKI PRODUCTS, INCLUDING WITHOUT LIMITATION, THE MERCHANTABILITY, SUITABILITY, ORIGINALITY, FITNESS FOR A PARTICULAR USE OR PURPOSE, AND DPS SPECIFICALLY DISCLAIMS ALL SUCH IMPLIED WARRANTIES. 
Claims should be submitted as soon as any damage is noticed.  Once all the appropriate information has been received, we will review the issue and offer a repair or replacement solution, depending on our review.  THERE ARE NO REFUNDS FOR ANY WARRANTY CLAIMS.  If a Warranty claim is considered eligible for a full replacement, the amount of the original purchase price for the DPS Products will be applied to the current purchase price of the replacement.