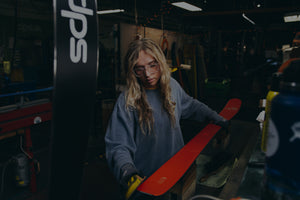 Register your Carbon skis
DPS Lifetime Warranty
DPS Skis are built to last and we stand behind the durability and quality of our skis. All registered Carbon DPS Skis, built in the USA qualify for a lifetime warranty against manufacturer defects. 
The DPS Skis warranty applies solely to the skis' original owner. Skis that have been purchased through a demo ski program are not eligible for warranty. Claims should be submitted as soon as any damage is noticed.
DPS is not responsible for any additional costs associated with the warranty process, such as the cost of remounting, tuning, renting demo's, etc. 
While we strive to make our skis as durable as possible, the warranty does not cover damage caused by excessive impact to any part of the ski. This may include impact damage from rocks, rails, cliffs/drops, trees, gondolas, chairlifts, concrete plazas, roads, parking lots, vehicles, airline travel, mistaking your skis for walking sticks, or any other type of activity. Damage that is a result of any of the following are not considered eligible for warranty:
THE LIFETIME WARRANTY AND TWO-YEAR WARRANTY ARE EACH A LIMITED WARRANTY, AND EACH IS GIVEN IN LIEU OF AND INCLUDES ANY AND ALL EXPRESS AND IMPLIED WARRANTIES THAT MAY APPLY TO THE SKI PRODUCTS.  DPS SKIS MAKES NO OTHER REPRESENTATIONS OR WARRANTIES OF ANY KIND, WHETHER EXPRESS OR IMPLIED, REGARDING ANY SKI PRODUCTS, INCLUDING WITHOUT LIMITATION, THE MERCHANTABILITY, SUITABILITY, ORIGINALITY, FITNESS FOR A PARTICULAR USE OR PURPOSE, AND DPS SPECIFICALLY DISCLAIMS ALL SUCH IMPLIED WARRANTIES. 
Claims should be submitted as soon as any damage is noticed.  Once all the appropriate information has been received, we will review the issue and offer a repair or replacement solution, depending on our review.  THERE ARE NO REFUNDS FOR ANY WARRANTY CLAIMS.  If a Warranty claim is considered eligible for a full replacement, the amount of the original purchase price for the DPS Products will be applied to the current purchase price of the replacement.